Dragon Protect Detection
Dragon Protect Detection is a artificial intelligence driven detection solution from Max Dragon. Drive innovation with a non-contact, early warning solution designed to add an additional layer to your current security system. Provide peace of mind to your employees and consumers whether you are detecting theft, weapons, face masks, socials distancing, object detection or facial recognition. Secure, controlled and encrypted at all times
Your assets, Our protection.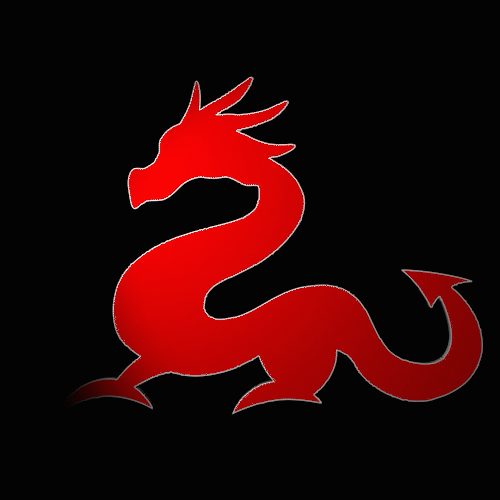 360° Protection
All Day, All Night, Everyday
AI
The Detection AI device can work across single or multiple AI analytic models depending on your needs in real time
100% Max Dragon developed and owned.

Camera
High quality 4K Motion activated cameras that operate 24/7 with Infrared and Thermal vision. All housed in small and lightweight casing.
Anywhere. Any environment.
Alerts
Real time video feed and alerts on PC, tablets or smartphones with visual and audible alerts to ensure no action is missed
Anytime. Any condition.
AI

Models

MDT are blue ocean innovators in the Artificial Intelligence field. We create and develop AI models that spearhead the industry.

Our models are
Continuously updated and learns as it goes
Lightweight for quick analysis
High accuracy
Models run concurrently for optimum efficiency
Models adapted to meet customer demands
Cloud based
Multi platform
Models collect from multiple data sources for greater insight
MDT AI models utilise a combination of actual data, learnings/experience and rules for the highest accuracy
How it works
Our flexible scalable solution:
Can be set up on multiple doorways at any location for detection.
Scanning software can process up to multiple individuals per frame within a 5 metre detection range.
Connect to a web browser on any device, PC, Tablet or Mobile and you can see select any or all door/locations for alerts as well as viewing one location live feed at a time.
Alerts will trigger a screenshot when an individual is identified so action can be taken as per your security protocols.
Alerts are recorded by date and time and can be viewed for up to 7 days.
Dragon Protect Detection

Benefits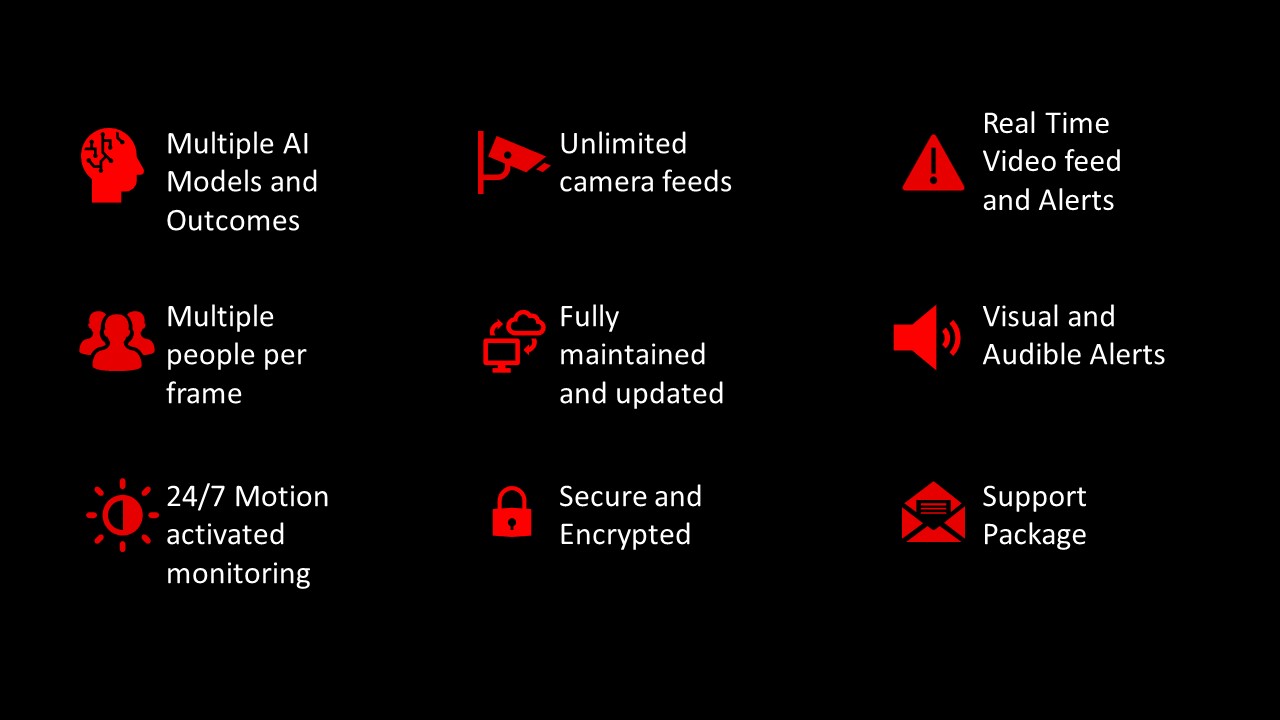 Why we stand out
Our Dragon Protect Detection provides unrivalled benefits such as:
Fast, accurate AI analytic models
Single or multiple AI models on every Detection device
No human required to confirm the detection, AI does this automatically
Real time video feed and Alerts
Motion activated Camera with Thermal, Infrared and 4K vision
Unlimited camera feeds at any location
User can view live feed and alerts on single or multiple Detection devices in one location
Data analytics and trends each week
No additional increase on your network bandwidth
Easy installation
Secure and Encrypted communications
Our Protection, Your Way
The AI detection choice is yours!
● Designed for any location - compliment your existing security system
● Small form-factor, compact, lightweight device that can be easily deployed to both new and existing buildings
● Active Live video feed and alerts available on Tablets, Smartphones and Desktops
● Motion activated Camera with Thermal, Infrared and 4K vision
Face Mask Detection
Detection anytime, anywhere
As more and more Governments mandate wearing face coverings, we need to remember wearing a face mask is for our own protection. MDT assists by:
Monitoring person(s) as they pass by the Detection device
Where a person(s) is not wearing a mask, alert will trigger visual and audible snapshot
Social Distancing Detection
Designed for any location
Whether it is Government or Privately mandated, maintaining social distancing is for our own protection. MDT assists by:
Monitoring the distance between person(s) as they pass by the Detection device
Where two or more person(s) are under the social distance measurement, alert will trigger visual and audible snapshot
Theft Detection
Designed for any location
Theft and shoplifting is a high cost to businesses across many different sectors such as Retail, Commercial, Construction, Manufacturing and Hospitality – anywhere there is something of value to a person(s). MDT assists by:
Monitoring staff, visitors and consumers as they pass by the Detection device
Where a person(s) pick up items and doesn't return it, eating or drinking an item, alert will trigger visual and audible snapshot
Integrate with the POS system to track and monitor any items not paid for at register or staff not scanning items
Integrate with image database to alert to a return offender
Weapon Detection
Designed for any location
The safety of every individual is paramount as we go about our daily lives. MDT assists by:
Monitor and track person(s) who are carrying a weapon that is concealed or in plain sight as they pass by the Detection device
Alert will trigger visual and audible snapshot
Where there are multiple Detection devices in one location, track the person(s) as they move around the location
Weapon and threat detection consists of 98% of all weapons as well as knives and syringes
Object Detection
Flexible Detection anywhere with any system
MDT object detection can be utilised for many different applications. Such as:
As a marketer looking for valuable and accurate first party data in your own environment such as what types of automobiles are coming in or out of the carpark, are consumers wearing headphones whilst they interact in your stores or how many customers wear glasses.
As an additional layer to your security system, be alerted to person(s) in restricted areas or person(s) carrying company materials off site
MDT offer a broad range of objects but if there is a certain item that you would like to identify, we can create a model for you
Facial Recognition
Flexible and Adaptive Recognition
Max Dragon Facial Recognition can process many faces per frame as well as 3D and skeletal recognition. Enabling advanced possibilities such as:
Imagine staff not having to fill out time sheets and the FR system provides the time sheets for you based on real time vision – integration with payment systems is also available
Imagine being alerted to a VIP member of your business or sports club who has just walked in the door
Imagine being alerted to a blacked listed patron who is entering your retail again
Imagine there is a missing child in your area and by entering them into the database, you can alert law enforcement if they come to your location
Enhancing your current security system to track down offenders, it is secure and fast, and provides identification of 98% accuracy with deep fake as a priority
Integrate with an image database for instant recognition of employees, consumers or blacklisted person(s)
Disclaimer The Dragon Protection Detection solution is not intended to diagnose or monitor any medical conditions, illnesses and should not be used as such. The Dragon Protect Detection solution is the first line filter for companies to detect particular circumstances or threats of those passing by the Detection device and it is then up to the company to determine how to use and act upon this that information in an appropriate manner.
Human Detection
All Dragon Protect Detection solutions run a Human Detection AI Model ensuring there are no false positive readings from other heat sources such as animals and background heat sources.
As a tertiary function of Human detection, the Dragon Protect solution can then enable estimated temperature detection of person(s) over a set limit
Layering with AI, secures the results against a human body to certify the outcome.
Moving Forward
As new AI analytic models are created, you can add to your Dragon Protect Detection device at any time so your investment isn't just about today, its about your future technology and security solutions.
Even existing Security/CCTV system can be enahanced with Dragon Protect AI models.
Today's Investment, For Tomorrow's Future
Innovation
We love a challenge. If you have a groundbreaking idea or problem let our team find a real world solution that achieves your goals and overcomes your hurdles.
We are not constrained by traditional boundaries and ideas. Innovation is at the core of our DNA.
We are Max Dragon. Creating Fierce Technology.